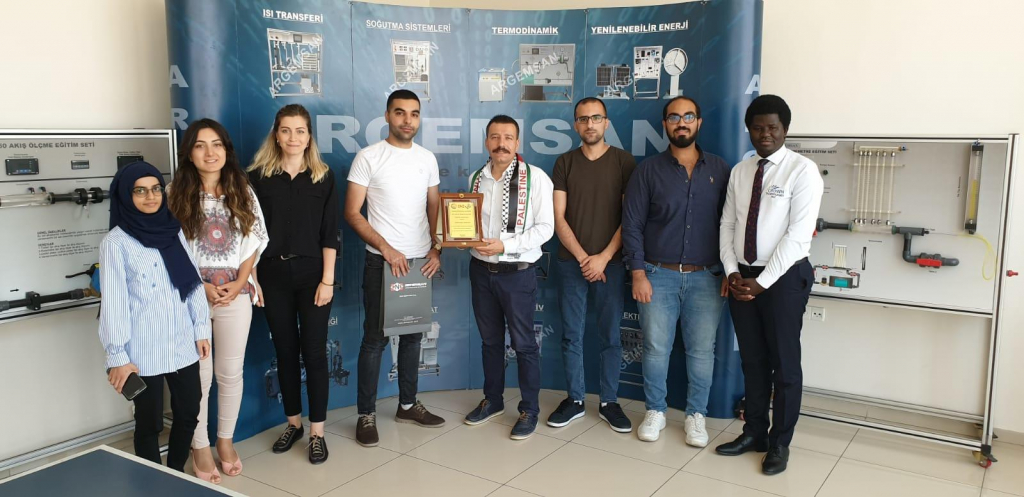 The PPU signed a MoM with Deneysan Company in Balikasir, Turkey, represented by Eng. Ibrahim Amayreh, the Director of the Development of Air-Conditioning and Refrigeration Programs, funded by the World Bank as from  July 21 – 25, 2019.
The MoM included several terms. Most notably were exchange of  experience between the University and the Company to promote engineering work and scientific research, holding workshops on the latest technological development in the field of air-conditioning technology, refrigeration and refractories, hosting teachers and supervisors of the air-conditioning and refrigeration workshops and engineering labs to train them on the latest devices and equipment pertaining this specialization.
It is noteworthy that Deneysan Company has been working in the field of equipment industry training since 2009. It exports its products to all countries of the world and it is also a leading supplier of  educational equipment training in Turkey. It is specialized in designing and producing all related to labs and engineering workshops equipment as well as  scientific research devices such as thermal transmission, fluid  mechanics and hydraulic machinery, thermodynamics, renewable energy, and air conditioning, in addition to heating, cooling and control systems.
After signing the MoM, al-Amayreh made a visit to Vulkan Company in Istanbul, and it was agreed in principle to hold a specialized workshop in Drive Tech, Lokring, and Couplings during the month of October at Palestine Polytechnic University, targeting teachers and Diploma and mechanic students at the College of Applied Professions and Engineering at the University as well as the partners of the Development of Air-conditioning and Refrigeration Programs in the private sector.
At the end of his visit to Turkey, Eng. Amayreh thanked both Deneysan and Vulkan companies for their warm welcome and hospitality, hoping to reap its benefits by contributing to the development of this specialization for the Diploma and Bachelor's degree by following up all that is new in this field and achieving benefit for the shared parties.
 For his part Dr. Mohammad Abu Taha, Dean of College of Applied Professions valued the efforts exerted by the project team.
It  is noteworthy that the College of Applied Professions is the largest vocational and technical education and training platform in Palestine as it offers twenty five specializations in technical and various knowledge fields.
Information & Public Relations Department