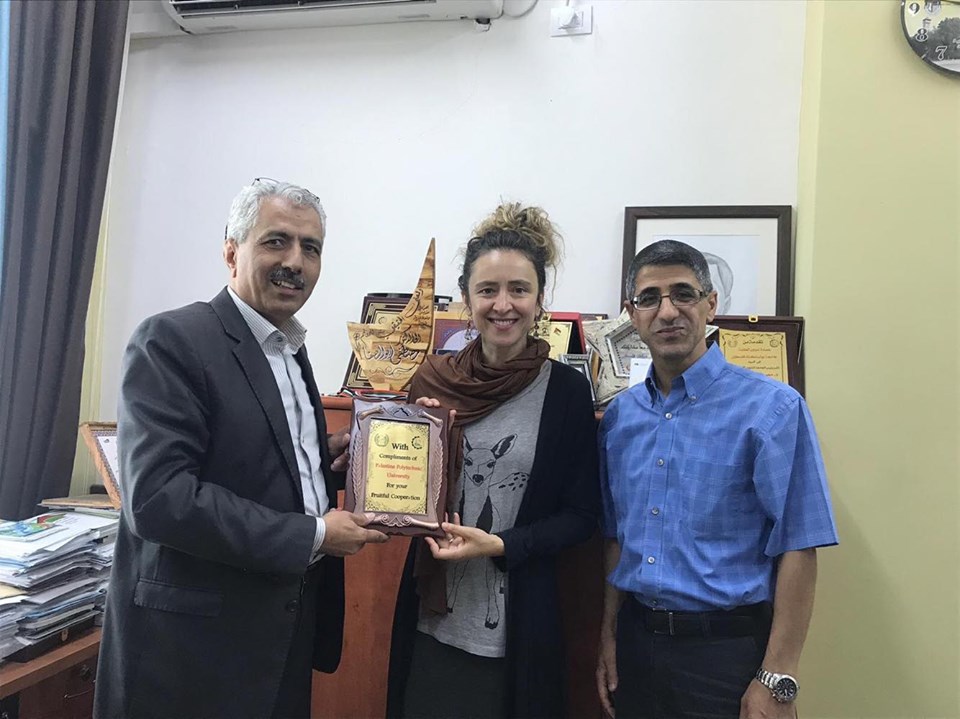 The Vice President of the PPU Academic Affairs Dr. Mustafa Abu Safa, and the Director of Language and Translation Center, Dr. Mohammad Tamimi, honored Dr. Tamrika Shvili for her efforts and work as an English teacher at the LTC during the academic year 2018-2019. She participated in teaching English as a foreign language at the Center through the "English Language Fellow" program, a program funded by the US State Department that aims to provide qualified  American English teachers for a whole academic year to teach at academic institutions throughout the world.
Dr. Abu-Safa thanked Dr. Shvili for her dedication to her work and her ability to create an appropriate atmosphere for learning and teaching English for both teachers and students. Dr. Tamimi also thanked Dr. Shvili for teaching many courses offered at the Center and developing and teaching a new course offered as a free course at the University. In addition to her distinguished teaching, he said, she showed a great ability to integrate into the activities of the Center as well as her participation in many workshops and conversation sessions to students and teachers.  He also added that Dr. Tamrika Shvili contributed significantly , through her support and organization, to the success of the English language conference, titled "Contextualizing English Language within Palestinian Experience" which was held in April, 2019.   More than 100 persons attended the conference and a large number of distinguished papers were presented by teachers and researchers from the Palestinian universities and foreign organizations that teach English, including the AMIDEAST and the British Council. Dr. Tamimi also said  that he had the honor to work with Dr. Shvili, especially in presenting research papers and proposals in local and international conferences which summarized  the experience of the LTC in the development of educational curricula and teacher training.
It is worth mentioning here that the US State Department has renewed this grant to a new teacher who is going to join the LTC  at the University during the academic year 2019-2020.
Information & Public Relations Department