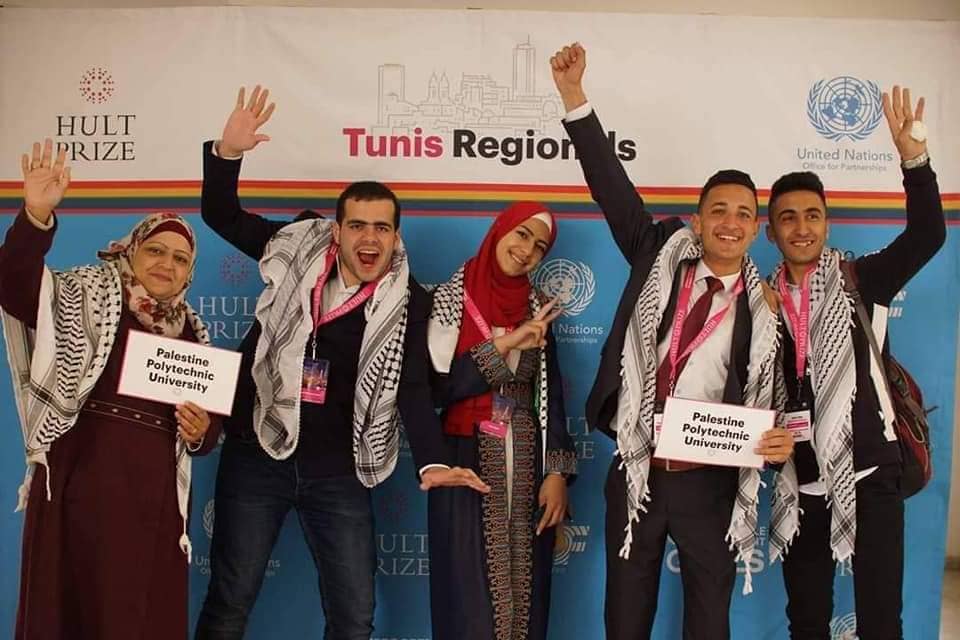 Palestine Polytechnic University participated in the Hult Prize International Competition, held in the State of Tunisia on April 20, 2019. The PPU's participating E-bazaar team, included the students: Lina Sbeih,  from the College of Engineering, Abdul Khaleq Omar Al-Junaidi, from the College of Information Technology and Computer Engineering, and Adham Bassam Al-Adam and Rami Abu Eram, from the College of Applied Professions. The team was accompanied by supervisor Dr. Liyana Tamimi, from the College of Information Technology and Computer Engineering.
The Hult Prize competition is one of the world's most prestigious competitions that give the opportunity to the university students to make pioneering solutions to solve global problems and challenges. The challenge this year focused on proposing an idea to create jobs for 10,000 people over the next ten years. This year competition included many teams from all over the world.
It is noteworthy that the University students' E-bazar project participated in the regional competition in the State of Tunisia after being qualified for the competition at the university level. E-bazaar is an electronic platform that markets handmade products, a platform that deals only with individuals. The participation in the competition contributed to the maturity of this idea and its presentation on a global level. Moreover, a partnership was also made with Aramex International Company and one of Queen Rania's initiatives in the education sector, and that the company will be launched within a few months. The jury and other participating teams praised the idea and the students' performance during the competition. Also, the Executive Director of the competition, Mr. Ahmed Al-Ashqar, stressed the importance of enhancing the youth role, especially university students, to participate in global problem- solving and creating opportunities in entrepreneurial projects.
The participants commended the efforts exerted in organizing the competition and harnessing all the possibilities that would have succeeded in achieving the desired objectives.  They also expressed their thanks to the jury and its organizers,  and the supporters of the E-bazaar team, especially Al-Wafaa Company for Plastic Industries, Hebron Chamber of Commerce, the PPU's administration,  for their great support in achieving the instrumental participation of the E-bazaar team in the competition, the team that has represented Palestine Polytechnic University and registered the name of Palestine in the Hult Prize competition.
Information & Public Relations Department