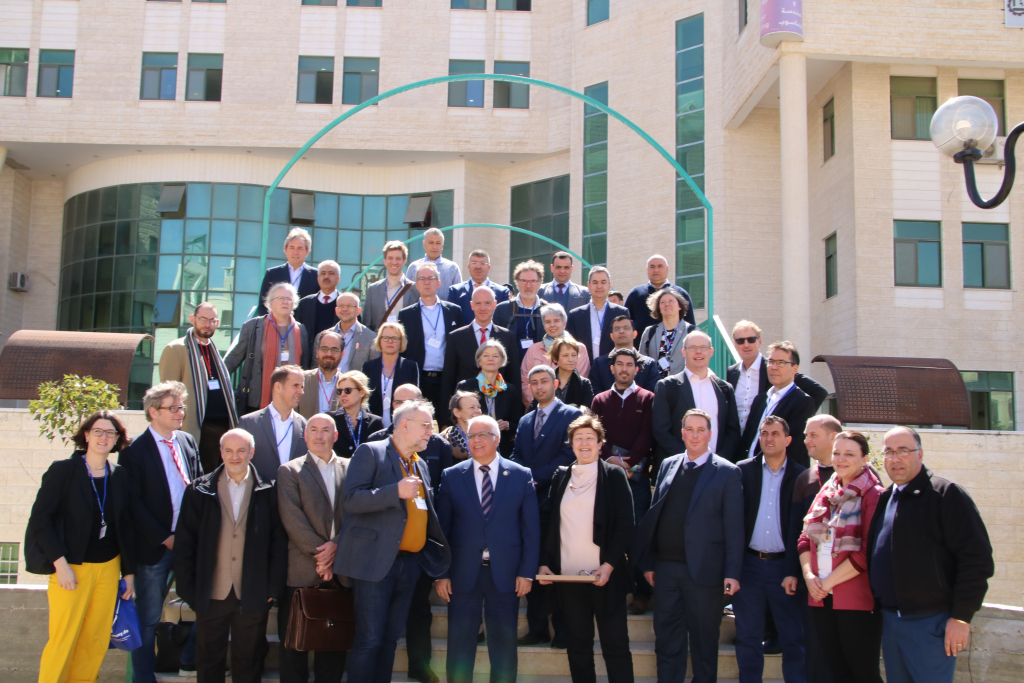 The PPU,  represented by its President Prof. Imad Khatib, vice presidents, deans of colleges and administrative staff, received a delegation that included twenty presidents from honorable German universities in addition to the former Minister of Scientific Research and representatives of  DAAD in the city of Bonn and Jerusalem.
Prof. al-Khatib welcomed the guests and stressed the importance of this visit to the PPU, in particular, and Palestine, in general, and he thanked the delegation for visiting Palestine this year. He also noted that the Palestinian people appreciated the visit of the delegation to Palestine and their support to the Palestinian narrative on the Palestinians' situation, talking also about the PPU's aspiration to have cooperation in many fields with the German universities.
The representative of DAAD Foundation in Bonn: Doritha Roland, expressed her pleasure for visiting Palestine and the PPU.
Then there was a presentation on Palestine Polytechnic University and its strengths, aspiring for cooperation with the German universities. The presentation also focused on the effect of German universities' graduates on the Palestinian community through their work with the PPU and the local community institutions.
The visiting delegation expressed the desire of the German universities to establish a sustainable cooperation network with the PPU in areas of mutual interests, especially those related to the College of Medicine, Engineering and training.
The Dean of Graduate Studies and Scientific Research Dr. Murad of Sbeih,  noted that it has been agreed to continue such cooperation and relationship between the PPU and the German universities through the DAAD Foundation that aimed at activating and implementing joint programs in graduate studies and scientific research.
The delegation was taken on a tour to the laboratories of the Biotechnology Research Center where students of graduate studies reviewed the research projects in the Center.
The visiting delegation expressed its admiration of the level of the scientific research of the PPU despite the difficult political situations, and promised to have more cooperation in many different fields of research. Visors  Program.
Information & Public Relations Department