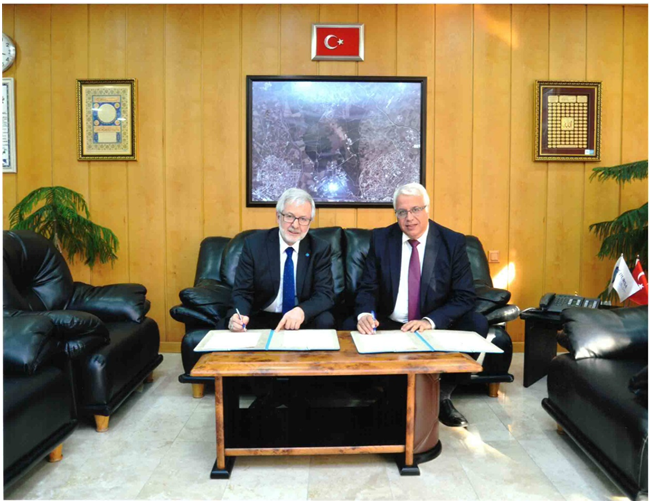 As part of enhancing external relations and developing academic programs, especially the joint  medicine program and health sciences programs, the PPU signed a cooperation agreement on these programs with the Uludag University. The President of Palestine Polytechnic University Prof. Imad Khatib was received by Prof. Yusuf Oljay, the President of Uludag University, and his deputies.
Through this cooperation agreement. Uludag University will provide scholarships for faculty members as well as fellowships and it will also provide hosting programs for the students of the Joint Medicine Program in its advanced educational hospitals.
It is noteworthy that Uludag University is one of the strongest universities in Turkey with eleven colleges offering diplomas, bachelor's, master's and PhD degrees. The number of students is 80,000.  As for the College of Medicine, it is regarded as one of the best schools of medicine which has developed significantly and has a teaching hospital with a capacity of one thousand beds. An additional hospital is currently under construction to serve the distinctive and postgraduate studies in the College of Medicine, which grant masters, doctorates and fellowships in various specializations.
The signing of this agreement came during the recent visit of  al-Khatib  to the State of Turkey, where he participated as a keynote speaker at the International Conference on "Refugees". During his visit, he also met  with Prof. Aref Karadamir, the President of Bursa Technical University, during which they discussed the mechanisms and ways of enhancing such cooperation between them.
Information & Public Relations Department