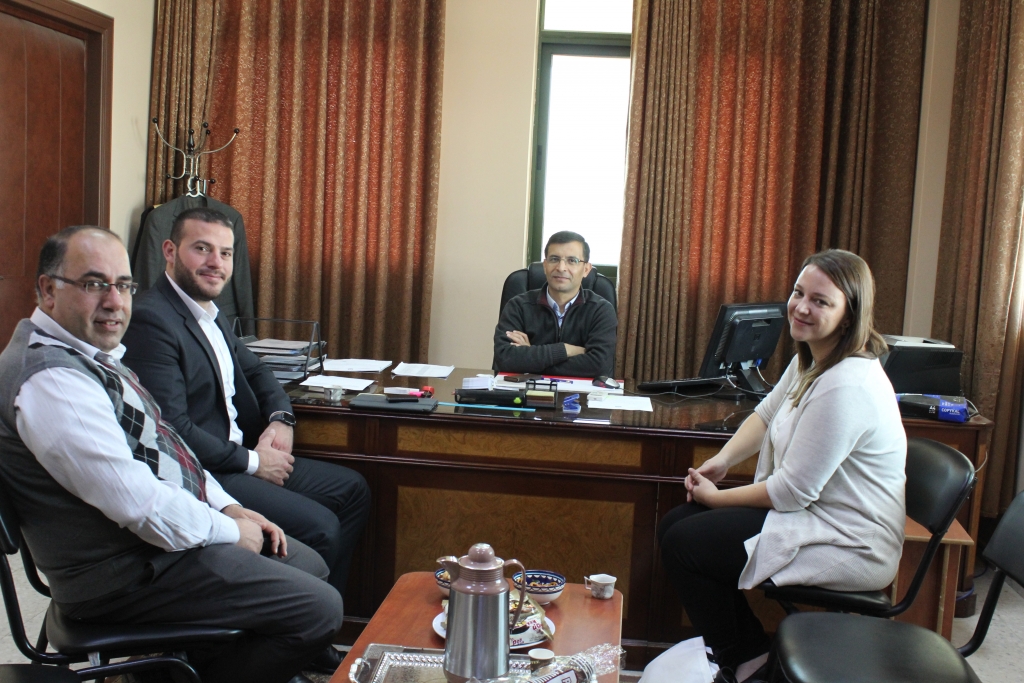 The Dean of Graduate Studies and Scientific Research Dr. Murad Abu Sbeih, received Mr. Jamil al-Sayyed, the Head of Software Section at Axos Company  and Ms. Christina Stalbuck, the Director of the Office of the German Academic Exchange Service (DAAD ) in Jerusalem, who visited the University at the invitation of the Dean of Graduate Studies and Scientific Research. The aim of this visit was  to discuss ways of cooperation between the University and the Axos Company in order to develop the graduates skills, training and scientific research. The guests met with the Dean of the  College of Computer Engineering and Information Technology and a number of the faculty members and students of the College where they were given an overview of the company, its activities and its branch in Palestine.
Mr. Jamil pointed out that the company would seek to create hundreds of work opportunities in Palestine in the field of information technology during the coming years and  recruit distinguished graduates in its company.
Dr. Zaineddin Salah, the Dean of the College of Engineering and Information Technology expressed the college interest in making cooperation with Axos Company and pointed out that its activities comes consistent with the activities of one of the international project that the college obtained and they agreed to formulate and exchange the proposals for cooperation to build on this meeting.
The guests then visited the TechnoPark headquarter of Hebron Municipality to become acquainted with its objectives and the ways of cooperation to achieve integration between the university and the private institutions and companies.
It is noteworthy that the headquarter of Axos Company is in Germany and it has many branches, one in Palestine. The company works in the field of information protection and the development of software and the infrastructure of information technology.
Public Relations Department