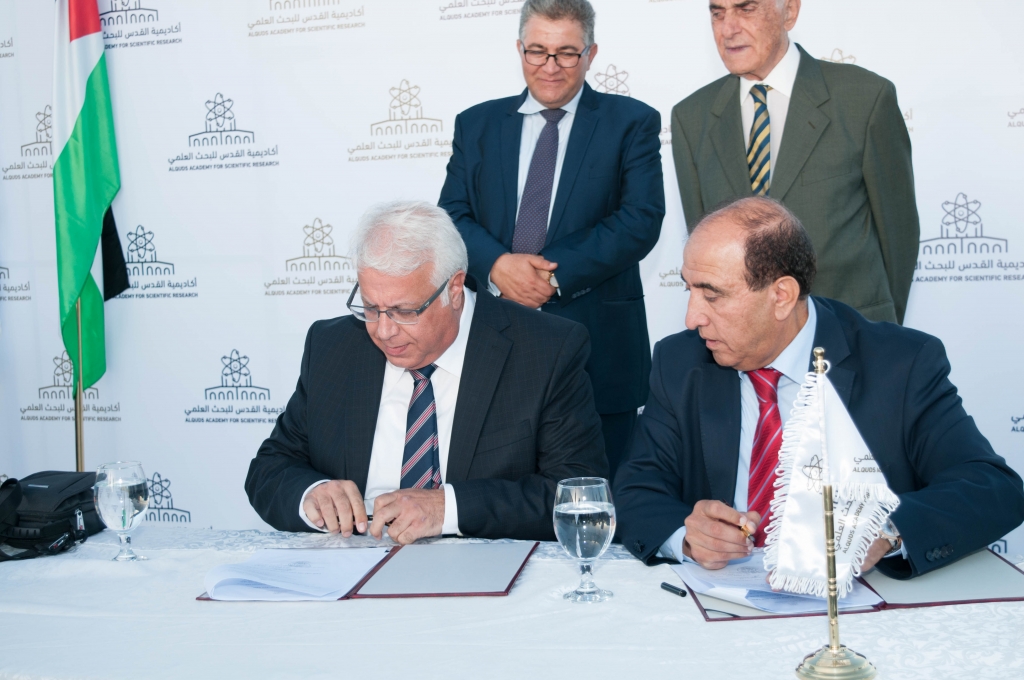 The PPU President Prof. Imad al-Khatb, participated in the ceremony of signing the research projects after receiving an invitation from Al-Quds Academy of Scientific Research and Munib R. al-Masri Development Foundation which was held last Saturday in the Capital of Jordan, Amman.  The signing ceremony was attended by a number of ministers, deputies, and businessmen, in addition to a number of elite academics from Jordan, Palestine and Lebanon. After  a rigorous and precise evaluation process that included four stages supervised by the American University in Beirut and a remarkable group of  specialists and international experts, the names of the winning research projects were announced. The winning project among the four projects that received the first rank was:
Designing a novel vaccine against Brucellosis: "Escherichia coli-derived Outer Membrane Vesicles as an Antigen Delivery System for Brucella Melitensis" ,
By Dr. Yacoub al-Ashhab, a researcher at Palestine-Korea Center for Biotechnology
The project aimed at applying a unique approach to design a safe and effective antigen against Brucella Melitensis In their speech, Prof. Ikhlaif Tarawneh, the Chairman of the Academy, congratulated the winners  in the first research cycle and stressed the importance of opening channels to support the  researchers and innovators in Jordan and Palestine. As well Mr. Munib al-Masri, the founder and Chairman of the Munib al-Masri Development Foundation, affirmed his foundation commitment to provide support to Al-Quds Academy and stressed the importance of the historic relationship between the Hashemite Kingdom of Jordan and Palestine and the need to strengthen research partnerships.  Dr. Imad Abu Kishk, the President of al-Quds University, valued the generous support provided by the Munib al-Masri Foundation to the Academy and he stressed  the importance of the academic support provided by the Foundation and the academy  to support the researchers and innovators in Jordan and Palestine.  At end of the ceremony, Dr. Ashraf Bani Mohammad, the Executive Director of the academy, revealed the future academic plans and the new programs the Academy is working on to empower the researchers, young entrepreneurs and innovators. It is noteworthy that the Al-Quds Academy for Scientific Research is a non-profit organization sponsored by Engineer Munib Rasheed al-Masri. This Academy aims to support and develop applied scientific research as well as enhancing research cooperation between the Jordanian and the Palestinian higher education institutions.
Public Relations Department